Prince William and Catherine Middleton were married on 29 April 2011, at Westminster Abbey in London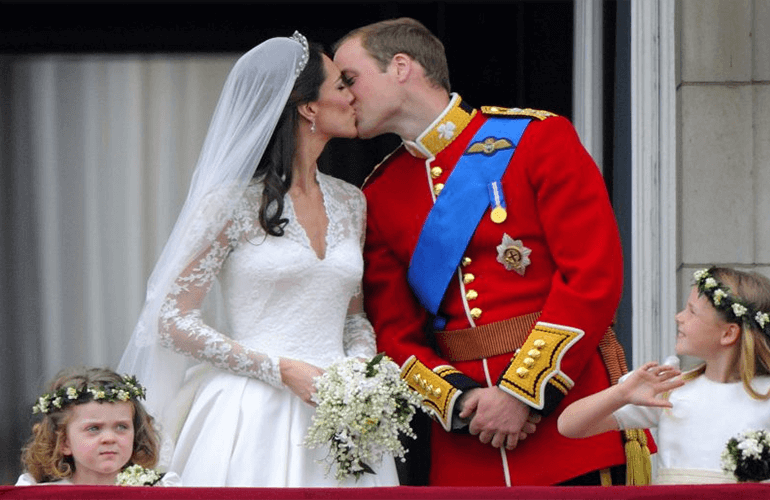 HRH Prince William Arthur Philip Louis was born on 21 June 1982, the firstborn child of Charles, The Prince of Wales and his wife of eleven months, the former Lady Diana Spencer. Catherine Elizabeth "Kate" Middleton was born on 9 January 1982, at the Royal Berkshire Hospital in Reading, Berkshire. The oldest of three children of Michael Francis Middleton, a flight dispatcher and Carole Elizabeth Goldsmith, a flight attendant.
The Engagement
Kate first met Prince William in 2001 when they were both studying at St Andrews, and both are living in St Salvator's Hall, university residence accommodation, in Fife, Scotland. By 2004, it was public that the couple had begun dating and they lived together during their second year of university. Whilst on a private holiday in Kenya in October 2010, Prince William proposed to Kate Middleton with his late mother Princess Diana's engagement ring. The official announcement of their engagement was made from Clarence House on 16 November 2010.
Engagement Ring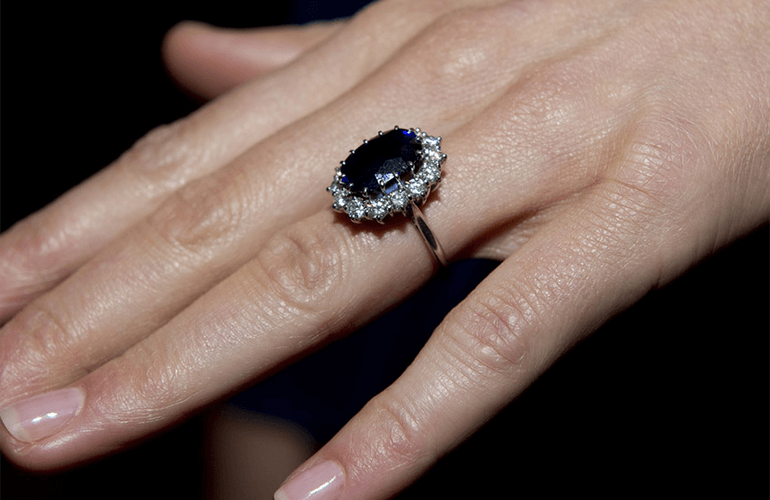 William presented Kate with his mother's engagement ring, a platinum ring set with a large oval sapphire and fourteen diamonds, originally made by royal jewellers Garrard & Company. This is a ring that Diana had selected for herself.
The 12-carat oval Ceylon sapphire is surrounded with 14 solitaire diamonds and set in 18-karat white gold and was inspired by a sapphire-and-diamond cluster brooch gifted by Prince Albert in 1840 to Queen Victoria as a wedding present.
Wedding attire
Kate had two dresses for her wedding, though few remember the second, which she wore for the evening reception. William and Harry wore military attire custom-made for the day with sweat-wicking materials, in the hope of keeping them cool in Westminster Abbey.
The dress
Kate wore a stunning custom designed wedding dress from the fashion house of Alexander McQueen. It much anticipated dress was a Victorian-inspired design made by the British designer, Sarah Burton. It had a full skirt and a fitted bodice, with lace sleeves and panelling which created a v-neck style. In the stitching of the bodice, there was a lace pattern which featured the design of a rose, thistles and shamrock, representing Britain. Her shoes were also from Alexander McQueen, being ivory satin heels hand-embroidered with additional lace by the Royal School of Needlework.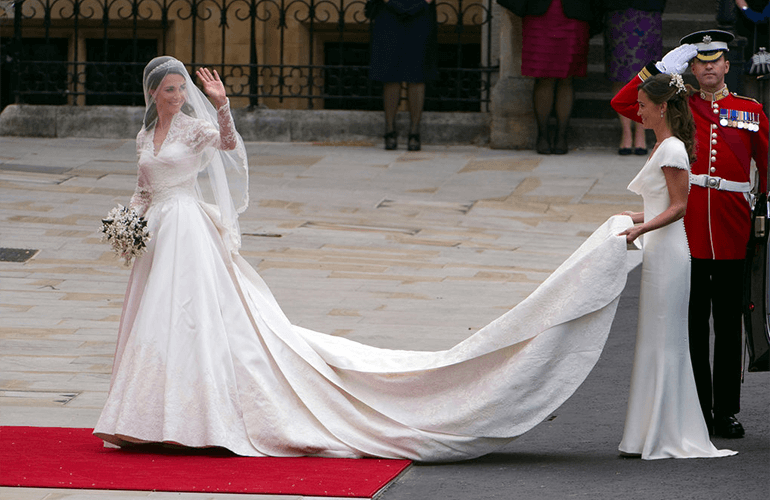 Kate's second dress, for the evening wedding reception, was a floor-length ivory satin gazar gown with a diamante-embroidered waistband, sweetheart neckline paired with a cream-coloured angora bolero jacket was also designed by Sarah Burton.
The veil
Kate's veil was nine feet long and was held in place by a Cartier halo tiara borrowed from the Queen, who received it on her 18th birthday, though her father had initially given it to his wife. The delicate diamond tiara was securely fastened, by literally sewing it into Kate's hair.
Bouquet
Kate's bouquet contained hyacinth, lily of the valley and myrtle, the latter symbolising love and marriage and the flower named Sweet William. The same bush planted by Queen Victoria at Osborne House in 1845 has supplied myrtle to multiple royal bouquets, including Queen Elizabeth's. The budget for all the floral décor for the wedding came in at £800,000. The trees were replanted on Prince Charles' private estate in Wales.
Ring
Kate's wedding band is made of Welsh gold. William's personal preference was not to have a ring of his own.
Wedding attendants
Kate and William had four bridesmaids and two page-boys. The best man was Prince Harry of Wales, brother of the groom and the Maid of Honour was Philippa"Pippa" Middleton, sister of the bride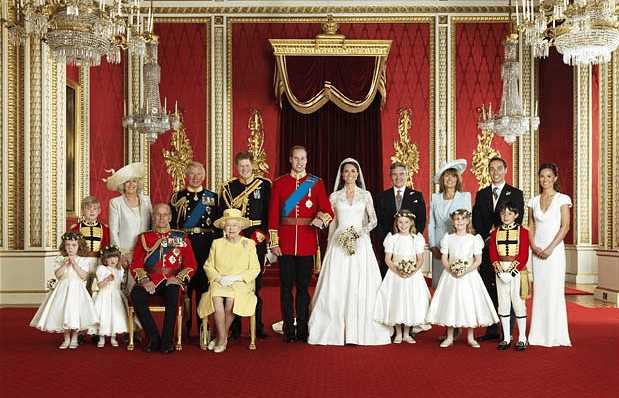 The Ceremony
On Friday 29 April 2011 at 11:00 the wedding ceremony for HRH Prince William of Wales and Miss Catherine Middleton began in Westminster Abbey. The service was televised and watched live by around two billion viewers worldwide. Nearly 2,000 people were in the Abbey itself to watch the ceremony, with nobles and dignitaries as well as celebrities including David and Victoria Beckham, Sir Elton John and David Furnish, and Joss Stone.
Miss Middleton travelled to the Abbey by car with her father from the Goring Hotel, down The Mall to Parliament Square. Together, they walked down the Abbey aisle, which was lined with eight 20 feet-high trees six being English Field Maple and two Hornbeam.
The wedding was a "semi-state wedding", rather than a formal state occasion because William was not the sovereign or a direct heir to the throne at the time. The Dean of Westminster conducted the service, the Archbishop of Canterbury married the couple, and the Bishop of London gave the address.
Guests
After the ceremony, the newly married couple, now the Duke and Duchess of Cambridge, travelled in a horse-drawn carriage procession to Buckingham Palace for a reception and were greeted along the streets by members of the public.
Prior to the reception hosted by the Queen, there was a private photo session for the wedding party and family, and then the bride and groom greeted their 650 guests.
The Lunchtime Wedding Reception
When at Buckingham Palace, the Duke and Duchess of Cambridge appeared on the balcony for an RAF flypast, two kisses and one infamously grumpy bridesmaid who didn't like all the noise.
Wedding cake
Two cakes were served, a wedding cake and at Prince William's request, a chocolate biscuit cake. The wedding cake was made from 17 individual fruit cakes and had eight tiers, decorated with a range of flowers symbolising the national symbols of the four UK countries, as well as symbols of love, strength, endurance and all you could wish for a newlywed couple.
The Evening Wedding Reception
In the evening, Prince Charles hosted an evening wedding reception at Buckingham Palace for 300 of the Duke and Duchess of Cambridge's closest friends and family. It was at this event that the Duchess of Cambridge changed into her second dress and William wore a black tie and dinner jacket.