Prince Edward and Sophie Rhys-Jones were married at St George's Chapel at Windsor Castle on 19 June 1999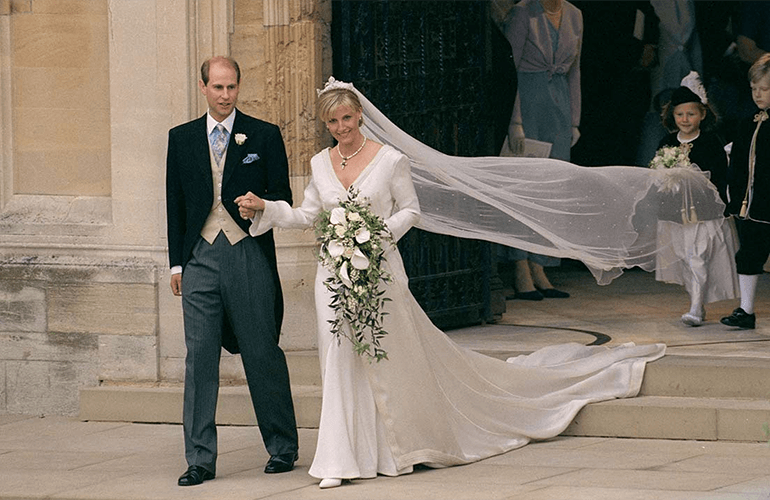 On the day, Prince Edward was given the title of the Earl of Wessex and Viscount Severn, with Sophie taking on the title of Duchess of Wessex.
HRH Edward Antony Richard Louis was born on 10 March 1964, at Windsor Castle, England, the youngest of four children and the third son of Queen Elizabeth II and Prince Philip, Duke of Edinburgh. At the time of his birth, he was third in line of succession to the British throne; as of July 2019, he is 11th. Sophie Helen Rhys-Jones was born on 20 January 1965, at the Radcliffe Infirmary in Oxford. They now have two children, Lady Louise Windsor, born in 2003 and James, Viscount Severn, born in 2007.
The Earldom for Prince Edward was a surprise wedding gift when a dukedom is usually expected. The palace later clarified that Prince Edward will become the Duke of Edinburgh when the title becomes available. Though some constitutional scholars continued to question why Edward had not been created a duke, as his brothers had before their weddings. Others dismissed the title Earl of Wessex which had not been used for one thousand years.
Engagement
Sophie was working at Capital Radio in London when she first met Prince Edward in 1987. At the time he was dating one of her friends. They met again at a Real Tennis charity event organised by the Prince in 1993 where Sophie was responsible for PR. The couple began dating soon afterwards, and on 6 January 1999 announced their engagement.
Ring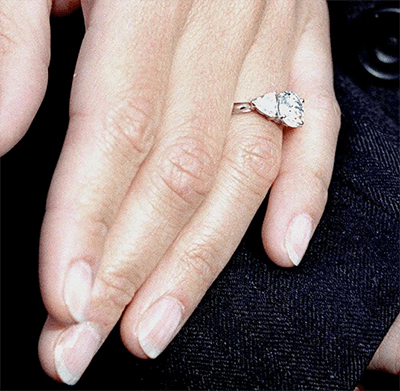 Edward proposed to Sophie with a diamond engagement ring featuring a two-carat oval diamond flanked by two heart-shaped diamonds set in 18-karat white gold. The ring was made by royal jewellers Asprey and Garrard, now known as Garrard & Co. Sophie did not want coloured gemstones since both Diana Spencer and Sarah Ferguson had coloured gemstones in their engagement rings.
Wedding attire
Dress
Sophie's bridal gown was an ivory silk organza Samantha Shaw dress, decorated with 325,000 crystals and pearls. It was layered with a matching silk crepe coat and a veil with crystal beading.
As part of her bridal attire, Sophie also made a sweet link to Prince Edward in the choice of jewellery she wore. This included a special black and white pearl necklace which had a cross fashioned from pearls at the front, complemented with a pair of matching pearl earrings, a set that was believed to have been a gift from Prince Edward.
Veil
Sophie's veil was held in place by a tiara previously unseen piece from the Crown Jewel collection, made up of four open scrollwork motifs said to have been taken from one of Queen Victoria's iconic crowns. The piece of jewellery came from the Queen's private collection and was designed and remodelled by the Crown Jeweller, David Thomas of Asprey and Garrard.
Bouquet
Sophie's bouquet was a mix of some of the most popular flowers used by brides for their big day at this time, with creams and whites including garden roses, stephanotis, freesias and lily of the valley, with calla lily at the heart sitting on a background of trailing greenery.
Rings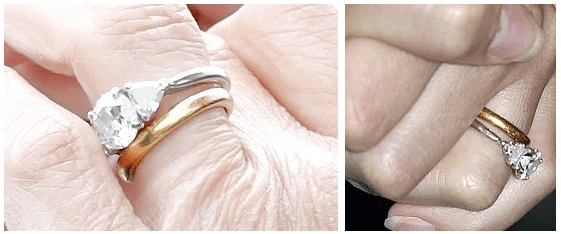 In keeping with the tradition of using Welsh gold for Royal wedding rings, the 22-carat gold for the couple's wedding rings came from Gwynedd, North Wales and created by royal jewellers Asprey and Garrard – who worked to Sophie and Edward's own design.
Wedding attendants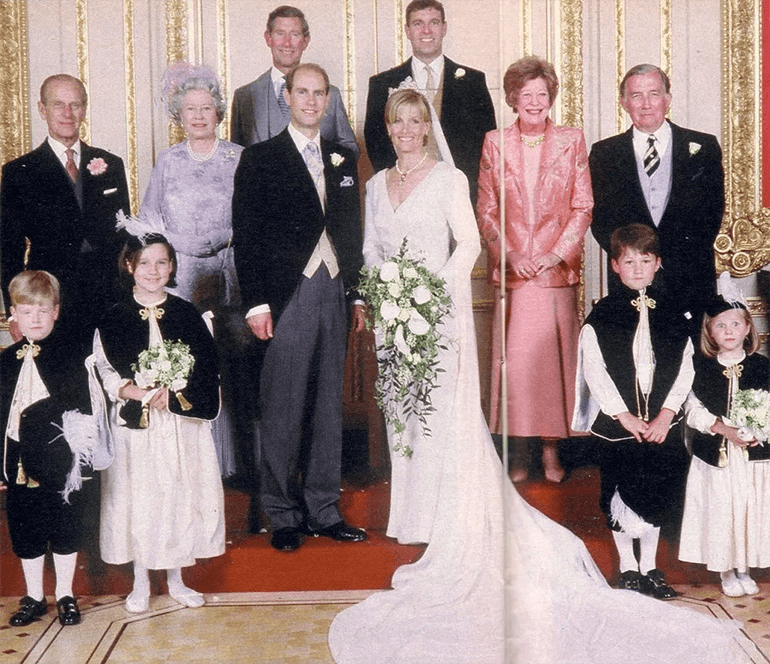 Whilst Edward's nephews Prince William and Prince Harry, aged 17 and 15 at the time, attended the wedding, along with nieces Princesses Beatrice and Eugenie, the couple chose Camilla Hadden and Olivia Taylor, children of their friends to serve flower girls and two other commoners named Felix Sowerbutts and Harry Warburton.to be the page boys.
The ceremony
For a royal wedding, this was a relatively low-key affair, with no ceremonial state or military involvement, including no politicians, including the UK Prime Minister at the time, Tony Blair. At the time of their wedding both were working privately, Sophie in PR, and Edward in the arts, which continued until 2002, when they gave up work in the private sector to become a full time working royals, paid from the privy purse.
This wedding marked a more informal and relaxed wedding, after the spectacular ceremonies of Edward's brothers Charles and Andrew. This may have been due to the fact that Edward's relationship was growing whilst his siblings were catastrophically falling apart in full public view.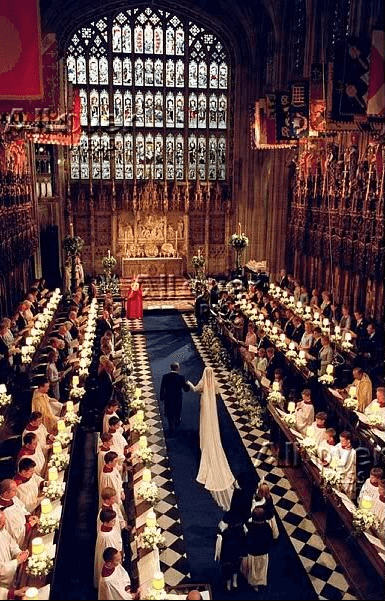 The service was led by the Bishop of Norwich, the Right Reverend Peter Nott and relayed throughout the grounds of the castle, with hymn sheets distributed to the ticket holders.
While it may have been an understated union, more than 200 million viewers across the world watched the wedding take place at 17:00 at St George's Chapel in Windsor, with Prince Edward arriving on foot with his brothers Prince Charles and Prince Andrew who were his "supporters" the royal equivalent to being a Best Man. The bride arrived with her father Christopher Rhys-Jones, in a Rolls-Royce.
Crowds at the wedding included 8,000 members of the public, picked at random, who had been invited into the castle precincts to see the bride and groom arrive at St George's Chapel. Edward and Sophie declined photographers' requests to kiss as they left the chapel. Instead, the shy newlyweds happily waved to well-wishers.
Guests
Having turned down the offer off a formal royal wedding, the Earl and Countess of Wessex asked female guests to opt for eveningwear rather than a day dress with a matching hat, and for men to wear morning coats rather than the usual royal dress code of a uniform or more formal suit.
Wedding reception
After the ceremony, a procession of open-topped, horse-drawn carriages carried Edward and Sophie to the reception at St George's Hall in Windsor, giving royal fans the chance to see the couple.
Speeches were made by the bride's father, the groom and the best man. Although the couple did not seal their union with a public kiss, a source at the reception later revealed the newlyweds shared a kiss at the reception after they had left the main room, in "a private moment."